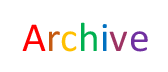 There is limited documentation of my early activities. I used to move on to the next thing with little or no thought about the need to record what I was doing. Hence any surviving documentation is accidental and some were never documented at all.
Here's a list of my main activities during the early 1970s.
Below are links to some remaining documentation.
1971
Bedtime Story Event
1972

Everything Tangible that Is Eternal
Linguistic Orchestra
ready-made words
Tear-Up-Count-Down
(Mezzanine Gallery)
Time against Money
1973
1974
1975
Exhbition invite, Anna Leonowens Gallery